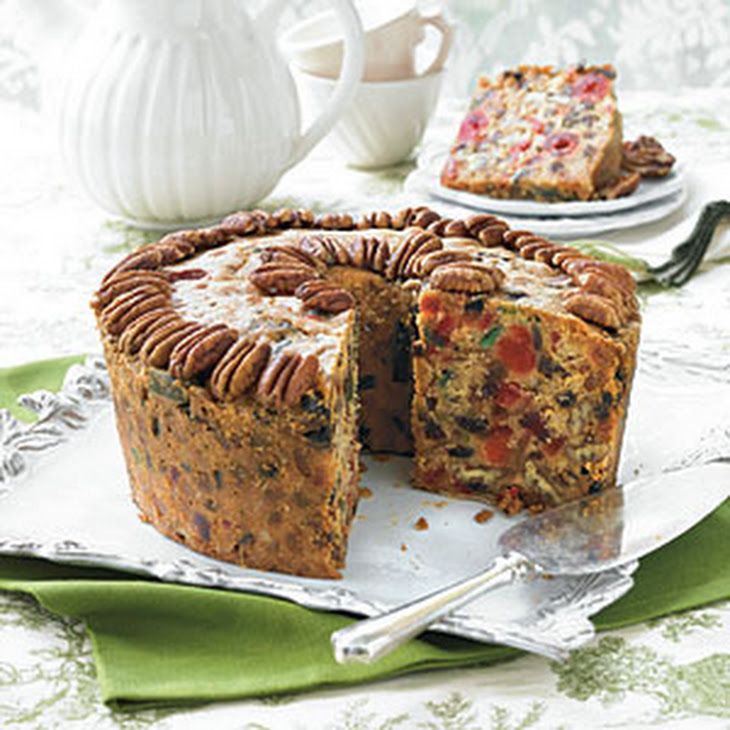 Ingredients
1 cup butter, softened
2 1/2 cups sugar
6 eggs
2 teaspoons brandy flavoring
4 cups all-purpose flour
1 1/2 teaspoon cinnamon
1 teaspoon nutmeg
1 teaspoon salt
1 1/2 pounds ready mix candied fruit
1 pound seedless raisins
3/4 pound candied pineapple
3/4 pound whole candied cherries
2 cups pecan halves
Garnish: light corn syrup and pecan halves
–
Directions
In a large bowl, beat butter, sugar and eggs with an electric mixer until fluffy, adding eggs one at a time until yolk dissapears. Stir in flavoring.
Sift together next 4 ingredients and mix thoroughly with butter and egg mixture. Work the fruit and nuts into batter with hands. Grease and flour a 19″ tube pan.
Fill pan 2/3 full with batter. Bake at 275° for 3 hours. One-half hour before cake is done, brush top with corn syrup. Decorate with pecan halves and finish baking. Cool. If desired, place cake, wrapped in a wine-soaked cloth, in an airtight container. Store in a cool place for several weeks; this blends and mellows the cake.