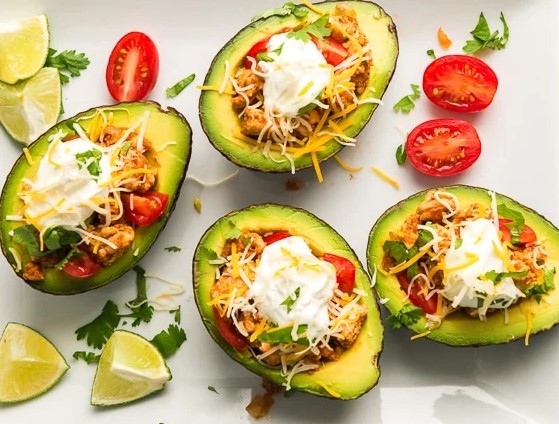 Ingredients
1 1/2 pounds of hamburger
1/2 cup of finely chopped onion
1 cup of tomato based salsa
1 cup of finely shredded Mexican cheese blend
1 cup of roughly shredded lettuse
1 package of taco seasoning
—
Directions
In a skillet brown the hamburger, and the onions, crushing the hamburger up into small pieces. Add the taco seasoning, to suit your taste while cooking.
When the hamburger is done drain and put it into to a bowl.
Cut the avocados in half, and remove the seeds. Carefully remove the avocados from their skins, OR you can leave the outer skins on, your choice.
Put each half on a serving plate with some of the shredded lettuce.
Put the cooked hamburger, onion, and taco seasoning mixture into each avocado half.
Add some salsa, a dollop of sour cream and the Mexican cheese blend on top.
Eat out of the skin using a spoon, or eat taco style if you removed the skins.