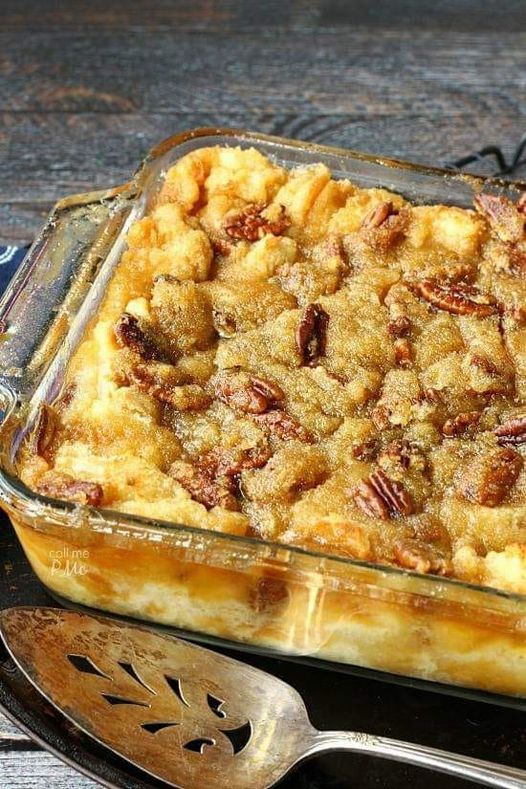 Prep time: 15 mins
Cook time: 55 mins
Total time: 1 hour 10 mins
Serves: 16
Combining two classics into one dessert. Gooey pecan pie makes this bread pudding unforgetable. A self-made caramel ties to the favorite desserts together. Pecan Pie Bread Pudding is actually Pecan Pie without the crust. Instead it's poured over a delicious bread pudding and baked to perfection!
—
Ingredients:
1 (16 oz) loaf day old French bread
2 and ½ cup milk
1 cup half & half (see notes) You can substitute whole milk or heavy cream
4 eggs, lightly beaten
1 cup granulated sugar
1 Tablespoon vanilla
⅛ teaspoon salt
½ cup butter, softened
1 and ½ cup packed brown sugar
1 cup pecan, chopped
—
Instructions:
Preheat oven to 350 degrees F.
Cube bread the place in a large bowl.
In another bowl, beat eggs, milk, half & half, sugar, salt, and vanilla to eggs; whisk. Pour over bread. Allow to sit 5 to 10 minutes
In another small bowl, combine with a fork, softened butter, brown sugar, and pecans. Mixture will have the consistency of wet sand.
Pour half of the bread mixture into a 8×8 inch pan.
Top with half the pecan mixture.
Spoon remaining bread mixture over and top with remaining pecan mixture. Press down into pan slightly. Pan will be really full.
Top with remaining pecan mixture.
Place pan on a cookie sheet with a edge to catch mixture that may boil over. Bake at 350 degrees F 45 to 55 minutes. Center will be slightly wiggly, but will set when cool.
Notes:
Half & Half is a mixture of heavy cream and whole milk. If Half & Half is not available in your area, you can substitute either whole milk or heavy cream. (Heavy cream may also be called Heavy Whipping Cream or Whipping Cream.)